FTEX has officially joined the family of Front Row Ventures.
We are thrilled to announce today the completion of Front Row Ventures' investment in FTEX. After months of hard work, dedication and collaborations we are excited to begin this new chapter with their support in making urban mobility more efficient through our powertrain solutions.
As pioneers in the development and optimization of ultra-high-efficiency Gallium Nitrate (GaN)-based drivetrains and software-defined solid-state transmission systems for light electric vehicles (LEVs), we aim to be the go-to third-party technology for e-mobility manufacturers. The Front Row Ventures' investment is a milestone on that journey that motivates us to keep working on our vision alongside all our industry partners and backers.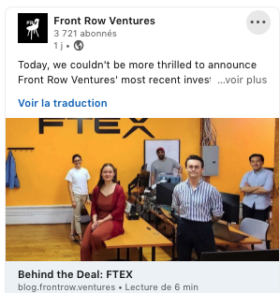 What have we been working on in the past year? 
In the past year, we've focused on solving LEVs major pain points by disrupting the industry through our cutting-edge motor controllers using proprietary GaNFET technology. Our solution significantly improves vehicle performances. It will extend LEVs range, offer higher efficiency, higher power density and increase the reliability of the electrical systems while reducing power losses towards your motor. Learn more about the benefits of GaNs. Learn more about the benefits of GaNs.
In addition, we've also secured multiple commercial projects, partnered with esteemed advisors, and participated in numerous incubator programs, including the Centech, Ecofuel Accelerator now Cycle Momentum, and Creative Destruction Labs – Montreal, which have given us countless strategic, operational, and legal advice and contacts. We feel fortunate to be so well surrounded!
What are we aiming for? 
With the help of our investors, we have already begun to align our product roadmap with the industry's needs for battery cost reduction (representing ~25% of the cost of the vehicle), increased LEV range, reliability, and, most importantly, power-usage efficiency and range extension while reducing size and weight. In combining our hardware technologies powered by GaNFETS with software components and holistic IP, we will be able to assist OEMs in gaining a competitive advantage and optimizing their electric system performance for a much greater range of speeds and torque than any other existing LEV motor controller.
What can you expect from us shortly?
We are on the verge of bringing to the market the very first software-defined solid-state transmission for electric vehicles that offers 30% more range without adding any extra mechanical parts or extra batteries for all EVs. Discover our core products and the rest of the full coverage of Behind the Deal: FTEX  by Front Row Ventures.
Follow our journey on our social media accounts here!