Montreal—August 2021—FTEX, a pioneer in precision motor control systems for e-mobility applications, is proud to showcase its innovative programmable motor controller designs featuring ultra-efficient Gallium Nitride (GaN) technology at EuroBike 2021 (Stand FG-A10/5).
FTEX's software-defined, solid-state dynamic motor drive combines the company's innovative software and cutting-edge hardware with GaN Systems' high-performance, high-frequency transistors to create powertrain solutions that increase the range and power of e-mobility applications by as much as 30 percent.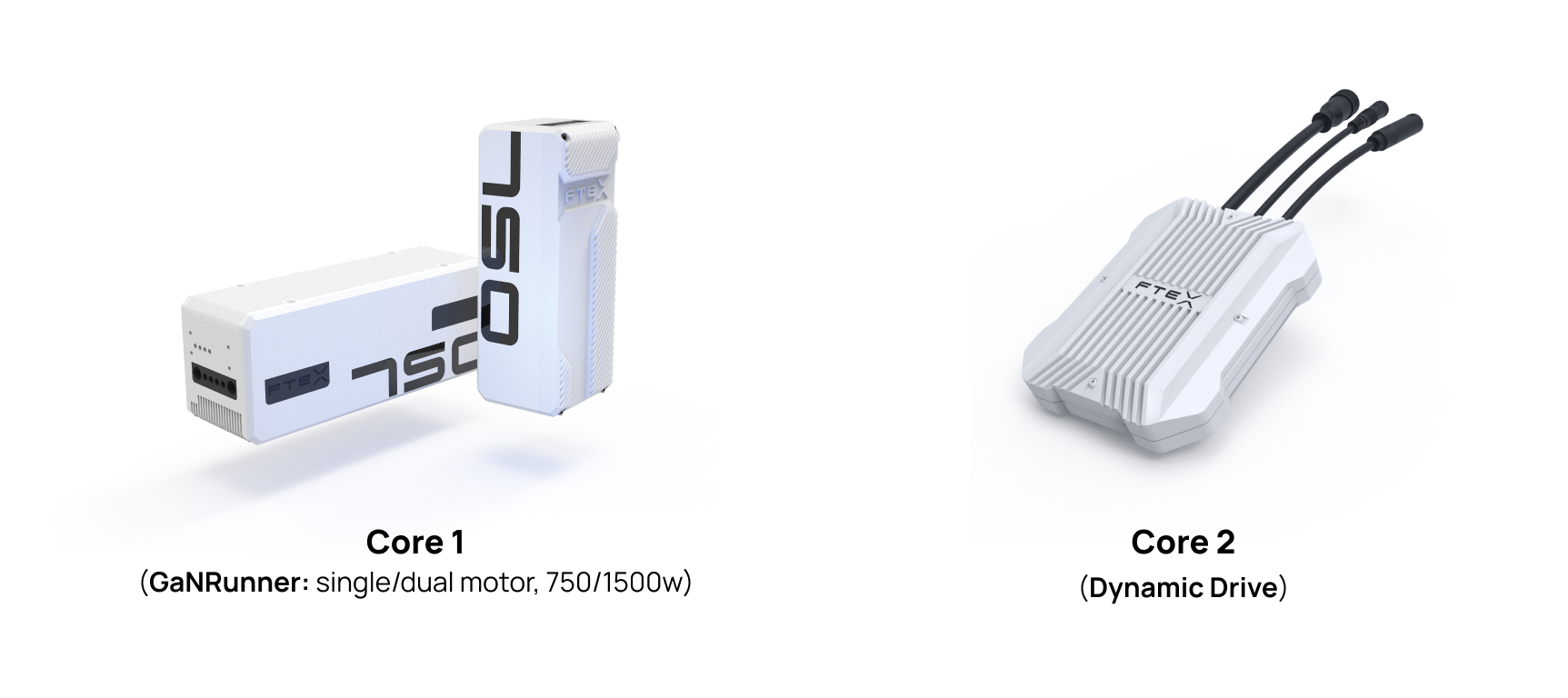 "Our founders will be available throughout the show to discuss our new software-programmable dynamic drive solution that will be ready for market in 2023," said FTEX CEO, Ramee Mossa. "We had an overwhelming response to our first GaN-powered motor controllers slated for delivery in 2022. The forthcoming dynamic motor drive is able to deliver more power while consuming less energy than our 2022 model. Our unique Dynamic Drive design for 2023 utilizes cutting edge power electronics topologies never seen before in a commercial product, increasing range by 20-30% and comes bundled with our Evionics system, offering users a level of connectivity, interoperability, and customizability never before seen on personal electric vehicles."
"Demand for 2023 is incredibly strong. We are taking pre-orders already for 2024-2025!"
FTEX's motor controller designs feature ultra-efficient electronics, lightweight construction, and a weatherproof shell that make it the perfect solution for electric bikes, scooters, mopeds, golf carts, and more. Driven By Gallium Nitride transistors, these designs offer higher efficiency, reliability, and energy density, delivering more range in a smaller solution than legacy MOSFET inverters. A compact form factor allows seamless interior and exterior mounting.
The current models deliver up to 3000 watts of motor power at voltages between 24V and 96V. FTEX will soon announce a high power model with variants offering 5, 10 and 15KW for larger vehicles.
Efficiently handling temperatures between -20°C and +60°C, FTEX designs feature multilayer fail-safe modes to prevent overheating and thermal shutdowns under high power demand.
The robust software-defined parameters will optimize battery performance, maximize range, increase battery life, and provide smooth acceleration. Furthermore, to focus on enhancing the experience provided by the vehicle, it comes with an OEM-friendly parameter tuning and diagnostic tool. Built-in GSM, GNSS and Bluetooth connectivity allows riders to track and remotely lock their vehicle through an upcoming mobile app, and allows for over-the-air system updates.
The Smart Power Boost gives an extra burst of energy to help climb hills, further enhancing the rider's experience, and its advanced regenerative braking system recoups energy by recharging the battery whenever the vehicle slows down. Built-in Bluetooth wireless communication allows riders to track their performance through an upcoming mobile app, and allows for over the air system updates.  
FTEX: More Power. More Range.More EVs.
FTEX is a pioneer in precision motor control systems for small electric vehicles. By combining ultra-high-efficiency GaN-based drivetrains with innovative software-defined solid-state transmission systems, our technology improves vehicle performance, extends range, and enhances rider experience. Our vision is to serve a range of 3KW, 5KW, 10KW and 20KW systems.
FTEX is dedicated to making e-mobility sustainable through intelligent power management.
Onsite Eurobike Media Contact:
Silvana Huaman
sales@ftex.ca